Production Technologies
Laser Printing

Documents are printed using high-speed production laser printers. Bills are either printed in grayscale onto color preprinted forms or using a 2-color laser process that supports black plus a standard shade of blue, red, or green. Postcards and inserts can be printed using grayscale, 2-color, or 4-color CMYK laser printing technology.
To ensure maximum uptime InfoSend utilizes production printers from multiple vendors, including Xerox and Canon. This includes a Xerox iGen 4 EXP printer, in addition to other digital color presses. The iGen 4 EXP is the premier full color digital press available on the market today.
As of June, 2011 InfoSend had a total laser printing capacity of 2.5 million images per day. The printing department operates multiple shifts per day. Production capacity is constantly monitored and increased as monthly volumes increase. InfoSend's cut sheet printing technology can be scaled almost instantly. New printing systems have been installed and operational in less than two weeks.
High Speed Mail Inserting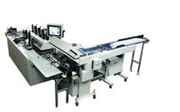 Printed documents are inserted using high-speed production inserters. Mailing equipment is extremely expensive and challenging for most organizations to operate. Leverage InfoSend's economies of scale by outsourcing your mailing. You will no longer have to pay for equipment financing and service.
Many organizations do not have dedicated staff to operate mailing equipment, or rely on just one or two dedicated staff members and struggle when one is out sick or on vacation. By outsourcing your mailing you can reallocate your staff to work on your core business.
Selective Inserting is available, which allows you to selectively target insert, flyers, or newsletters to specific mail pieces. Selective Inserting will also allow you to exclude a #9 return envelope for all customers participating in an automatic payment program. Individual documents can be grouped together ("householding"), if desired. Documents can be grouped together based on mailing address alone or based on indicators in your data files.  

All addresses are put through CASS certified address validation. This adds the 4-digit extension to the Zip Code, creates the USPS OneCode Intelligent Mail Barcode, and digitally presorts the addresses. Batches containing at least 500 bar-coded mail pieces are digitally presorted and delivered to the USPS at the lowest possible rate.

During processing A 2D barcode is added to your documents and used with intelligent mail inserting equipment. This equipment folds and inserts documents using "mail piece integrity" software to prevent inserting errors such as double stuffing.  The barcodes are read before and after the documents are inserted into the envelopes to ensure proper sequencing and handling.